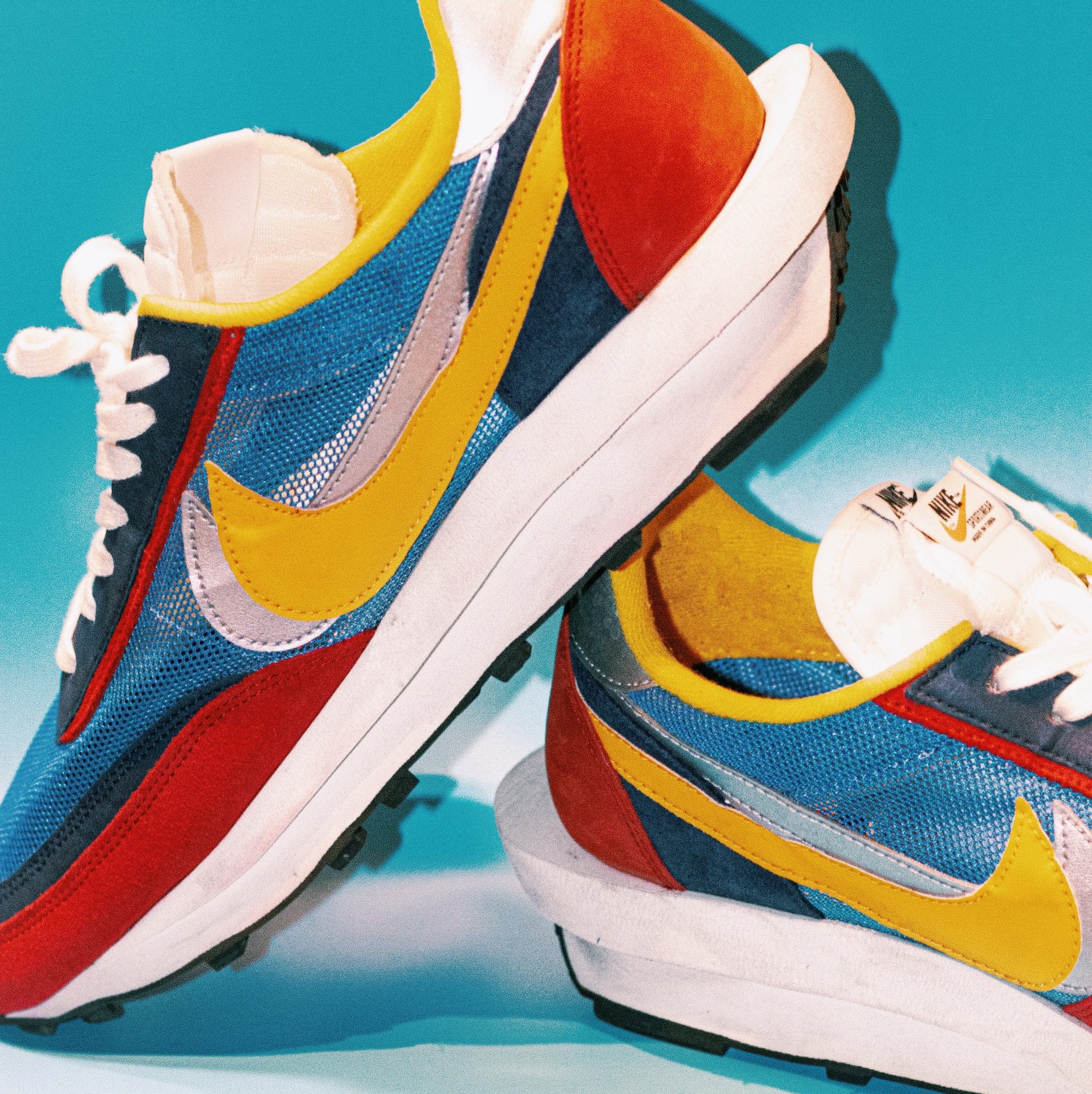 Fashion
Talking Trainers with Retail Liaison Manager, Will Greenland
Will Greenland, Retail Liaison Manager at the Glades, has an enviable collection of some of the world's coolest sneakers. We caught up with him to find out more.
we cHATTED TO WILL GREENLAND, RETAIL LIAISON MANAGER HERE AT THE GLADES, to dive deep into his love for trainers; from the joy of the hunt to his favourite styles, and why it's important to hold on to the original boxes…
We hear you're a sneaker head, when did you buy your first pair of trainers?
It was about 10 years ago, I went to size? on Carnaby Street and bought a pair of Nike Air Max One Obsidian. They were the first pair of Air Max I'd owned. I just thought they were really cool and a style I'd not seen before. I think I've always been interested in things that are hard to find; I've always found it more interesting to go on a hunt to find something rare.
My love of trainers kind of spiralled into an obsession from that first pair. Through university I got really into the world of streetwear and slightly alternative fashion brands that have roots in street culture. While I was at university, I bought more pairs and like with anything, when you start to dig a little deeper, you realise there's even more to learn. I joined Facebook groups dedicated to sneakers and clothes, and really enjoyed exploring this sort of fashion subculture.
I've never queued overnight to shop for the latest product drops, but I've definitely spent a few hours in line. When I first got into trainers, it was easier to camp out before a new release, but I think in recent years, streetwear culture has become more mainstream and, as it has, I've also distanced myself from the whole craze of it.
How many pairs do you have?
About 85-87. It fluctuates because I'll buy a new pair and sell an older pair. My collection takes up a fair amount of space and a lot of them are still in their original boxes. One of the selling points when I'm shopping for a pair of trainers is if they come in their original box – it helps for stacking trainers, but I like the significance of keeping them too.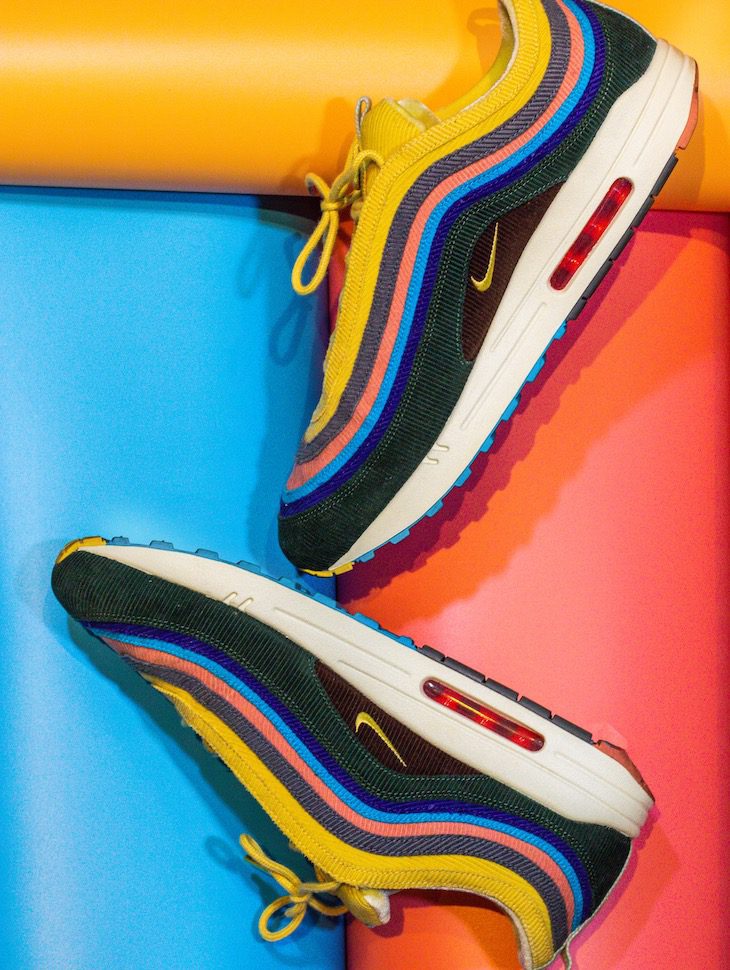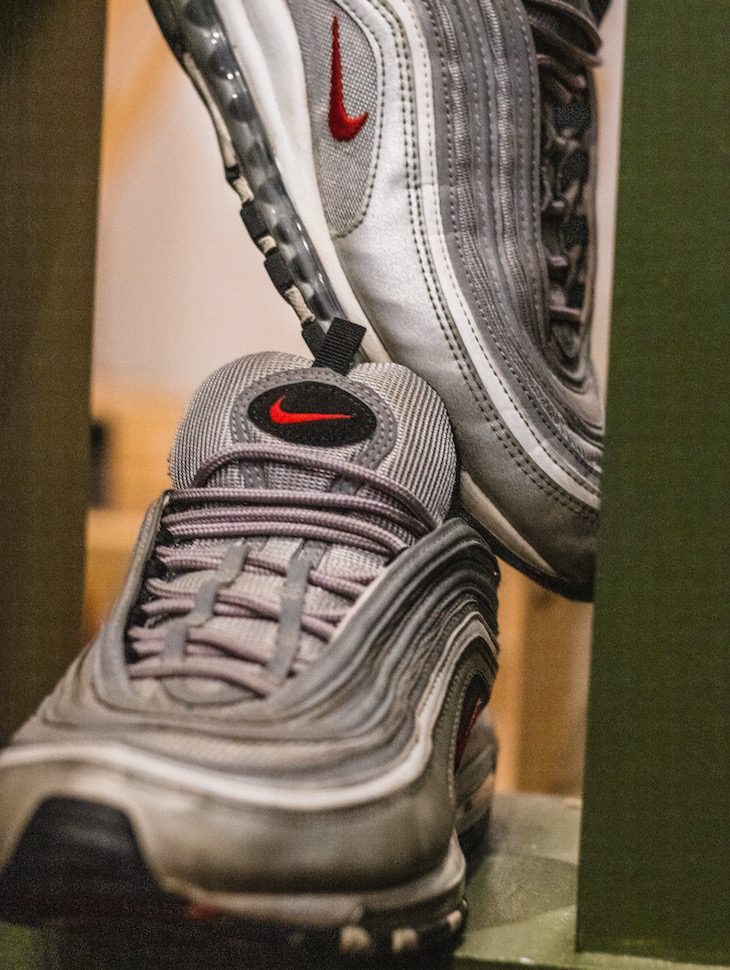 What draws you to trainers?
It's the challenge of finding those particularly rare styles.
I've got one pair of trainers that took me about 18 months to find. I was searching various Ebay, Instagram and Facebook pages for months and it really was a challenge. Particularly as I'm a UK size 12, so not only was I looking for rare pairs, but the search is often harder because there are less pairs released in that size.
This particularly epic search was for a pair of Supreme Air Force One in a camouflage colourway released in 2012. I'd seen them and thought they were amazing, so I went on a daily search, using keywords across multiple sites and scrolling endlessly to find them.
Eventually I found them on Instagram and I had them shipped from America.
I think the hunt for a pair of trainers is part of the excitement and that's what draws me to it.
Is there one pair in your collection that is particularly special? Why?
There are a couple! I think the Supreme Nike Air Force One in camouflage, more for the fact they were so hard to find. Another pair is my Nike x Sean Wotherspoon Air Max 97/1, which combines two signature silhouettes. It's a Nike Air Max 1 outsole with a Nike Air Max 97 upper. A couple of years ago, Nike collaborated with a bunch of different designers to create shoes that they then put to a public vote. The pair that received the most votes would then be produced as part of the 25-year anniversary of the Air Max.
The style they eventually released has corduroy uppers, so they change and age nicely as you wear them. I think they're really interesting and I consider them one of my favourite pairs.
Another pair in my collection was part of a friends-and-family exclusive, and when I saw them I thought, 'I'm going to have to buy them!'. They're a collaboration between Dutch brand Patta and Nike, called the Air Span 2. As part of the collaboration, they released this style that wasn't available to the public. I managed to bag a pair and it just gave me a kick to know that I owned something you wouldn't be able to find in a shop.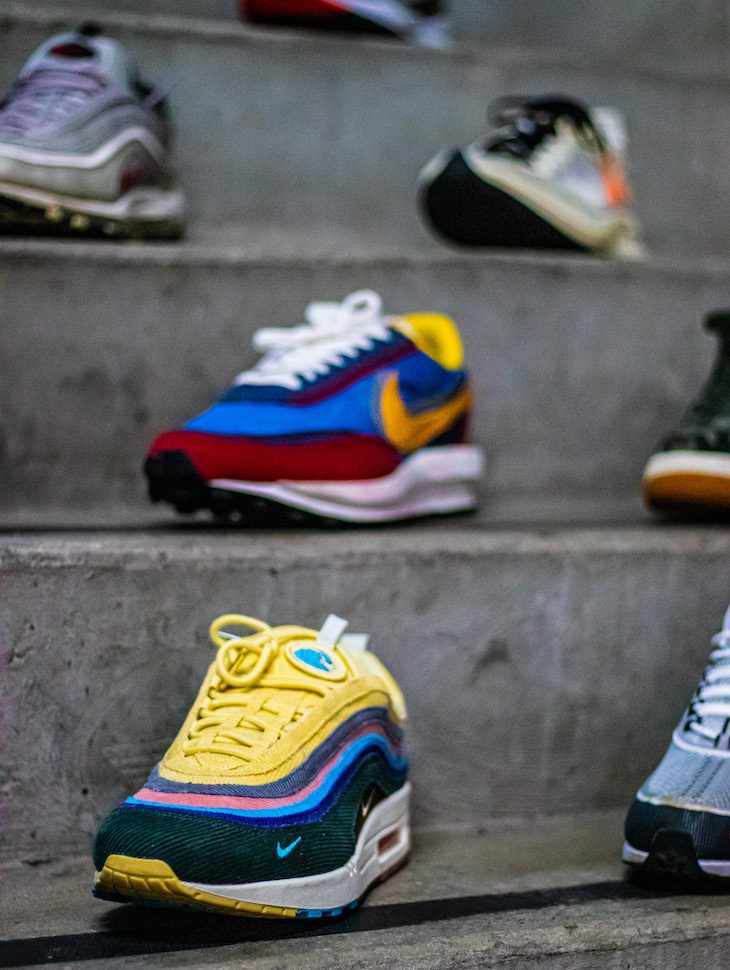 Are there any silhouettes that stick out in your mind as historic in the world of trainers?
The Nike Air Max is an iconic silhouette and probably my favourite.
The Air Max 97 too, it was first designed by Christian Tresser who designed it on the Japanese bullet train. This year actually marks its 25th anniversary.
The Nike Spiridon, named after Spiridon Louis, who was the first modern age Olympic Marathon winner at the 1896 Summer Olympics in Athens, Greece. I really like the fact Nike tends to link its styles with key sporting moments throughout history. I bought a pair when they were re-designed and re-released in 2017.
The Air Max 95, originally designed as an off-road running trainer by Sergio Lozano. They're a really cool silhouette with striking, neon green colouring.
I find it fascinating to explore how trainers are rooted to these different backgrounds as well as the cultural groups they're adopted into. For example the Nike Air Force 1 has strong ties with the Hip Hop and Grime music scenes.
I really like the Nike Air Force 1. It's such a classic silhouette while being fresh, and it's always used as a canvas for collaborations.