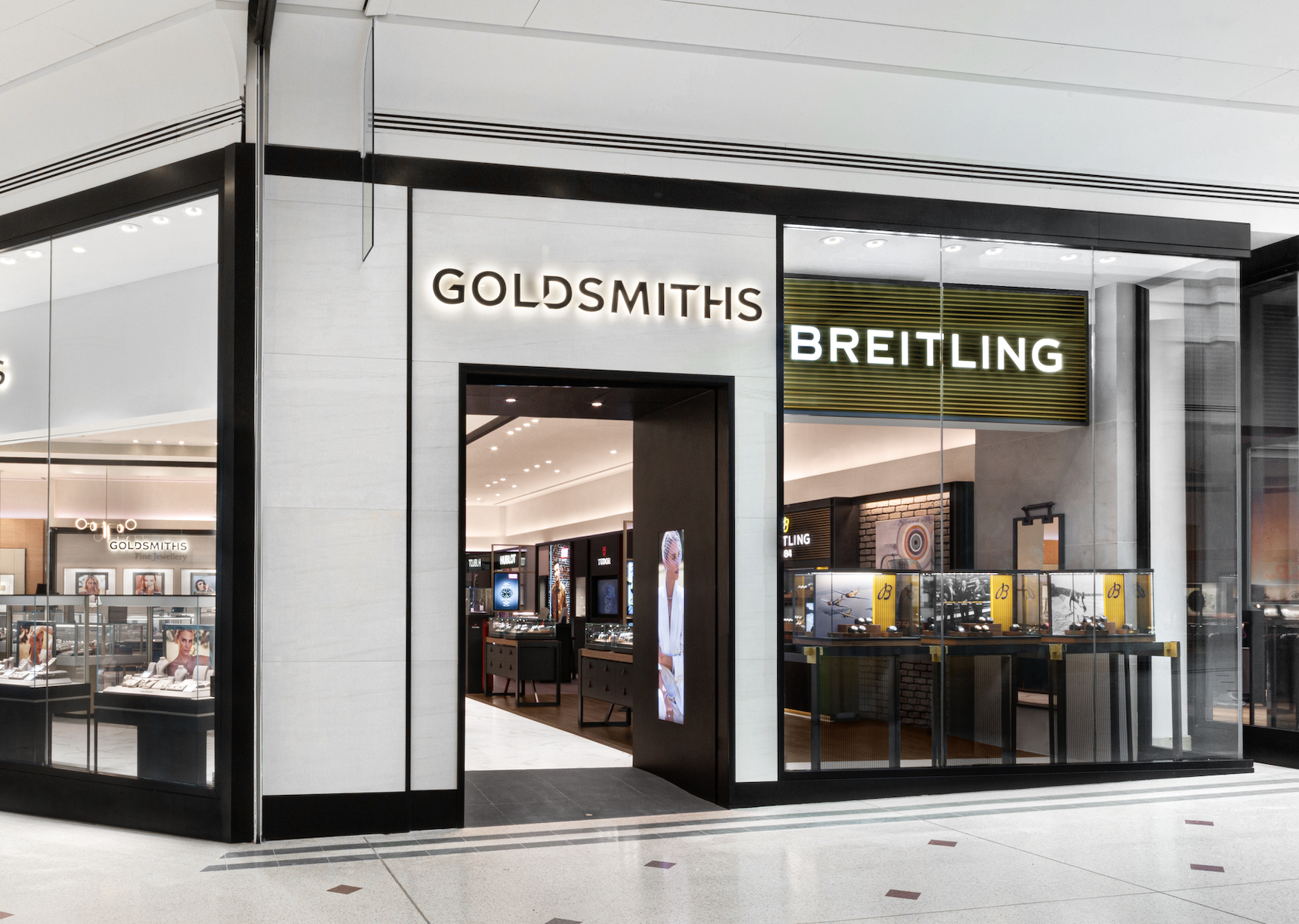 Our Glades
GOLDSMITHS OPENS ITS FIRST SHOWROOM IN BROMLEY
Goldsmiths, one of the UK's leading luxury watch and jewellery retailers and part of the Watches of Switzerland Group, has opened its first showroom in Bromley featuring the new luxury concept.
The Goldsmiths showroom is situated within the Glades shopping centre, an extensive mix of high street brands with over 135 retail outlets, spanning over 460,000 sq. Ft.
The new Goldsmiths showroom with an elegant wrap around glass frontage and fresh luxury interior concept, which includes:
• Branded areas for prestige luxury brands OMEGA, Breitling, TUDOR, and Hublot.
• The latest luxury design furniture to house Gucci watches & jewellery
• A new jewellery & bridal area with bar style seating to allow a more personalised customer interaction.
Watch enthusiasts can enjoy these exclusive brand areas which offers the ideal meeting place for true connoisseurs. The new showroom is also home to exquisite jewellery from Goldsmiths own diamond collections each piece gets designed to suit many styles and tastes, so you are sure to find the piece perfect for you. A large back wall dedicated to branded jewellery from FOPE, Jenny Packham and Mappin & Webb with dedicated client service areas.
The light, open plan showroom features a monochrome palette of luxurious materials such as white-washed oak timber, white terrazzo and blackened steel have been combined with visual architectural forms that include repeating vertical lines and soft curves inspired by the Goldsmiths logo.
Craig Bolton, President of the Watches of Switzerland Group, UK, and Europe says: "We are excited to bring this new, Goldsmiths showroom to a local clientele in Bromley. The elevated luxury showroom will deliver a contemporary environment, to relax and explore the latest collections. The introduction of branded watch areas for OMEGA, Breitling, TUDOR and Hublot, the finest of Swiss watchmaking, ensures clients have the best product offering, in the best environments and in the best location. The addition of the TAG Heuer boutique adjacent to the Goldsmiths showroom delivers a significant investment in the local area that we believe clients will enjoy for years to come".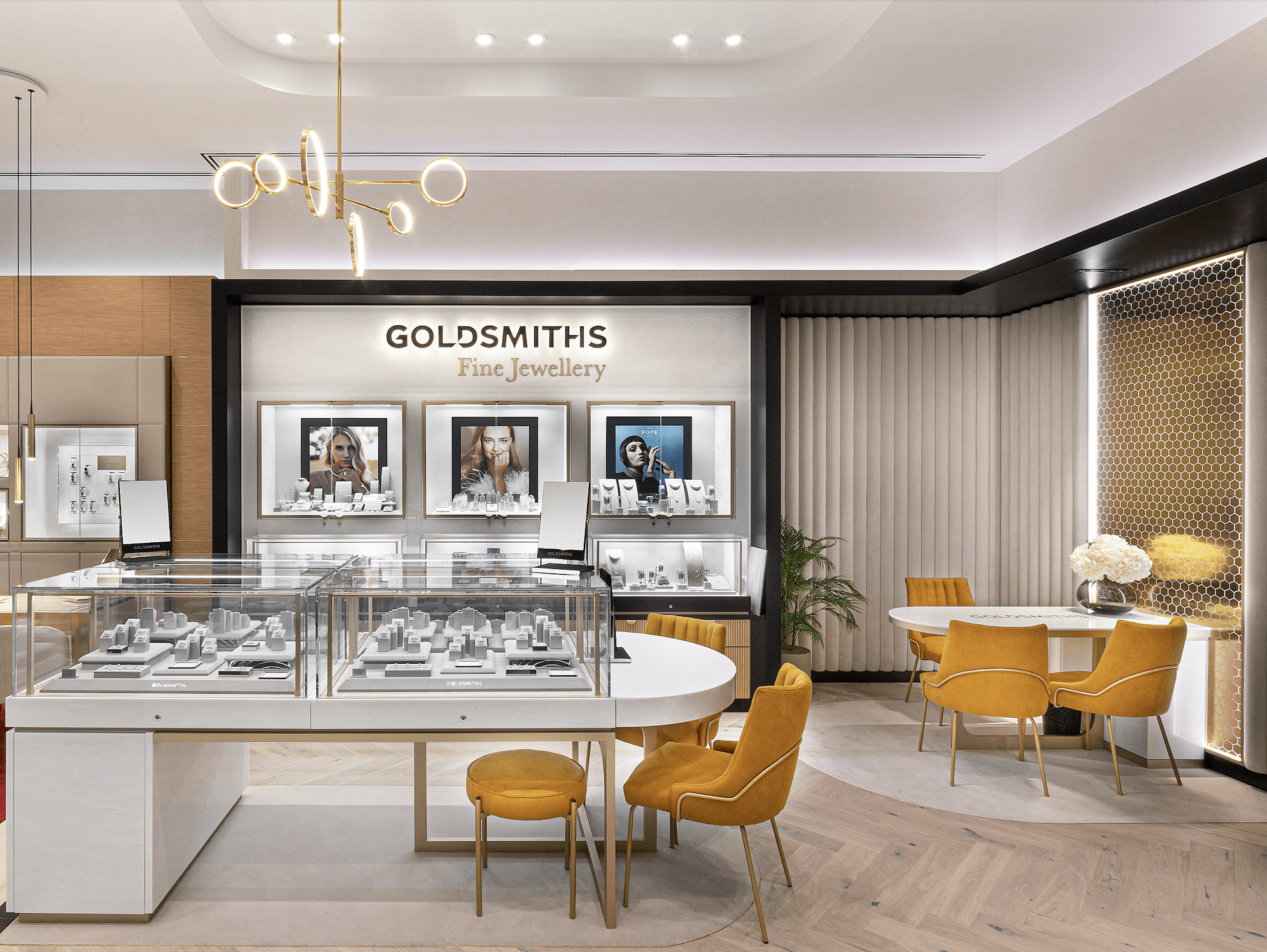 ABOUT THE WATCHES OF SWITZERLAND GROUP
The Watches of Switzerland Group is the UK's largest luxury watch retailer, operating in the UK, US and Europe comprising five prestigious brands: Watches of Switzerland (UK and US), Mappin & Webb (UK), Goldsmiths (UK), Mayors (US) and Betteridge (US), with a complementary jewellery offering.
As of 30 April 2023, the Watches of Switzerland Group had 193 showrooms across the UK, US and Europe including 80 dedicated mono-brand boutiques and has a leading presence in Heathrow Airport with representation in Terminals 2, 3, 4 and 5 as well as seven retail websites.
The Watches of Switzerland Group is proud to be the UK's largest retailer for Breitling and TAG Heuer watches.
For all press enquiries please contact: pressenquiries@thewosgroup.com