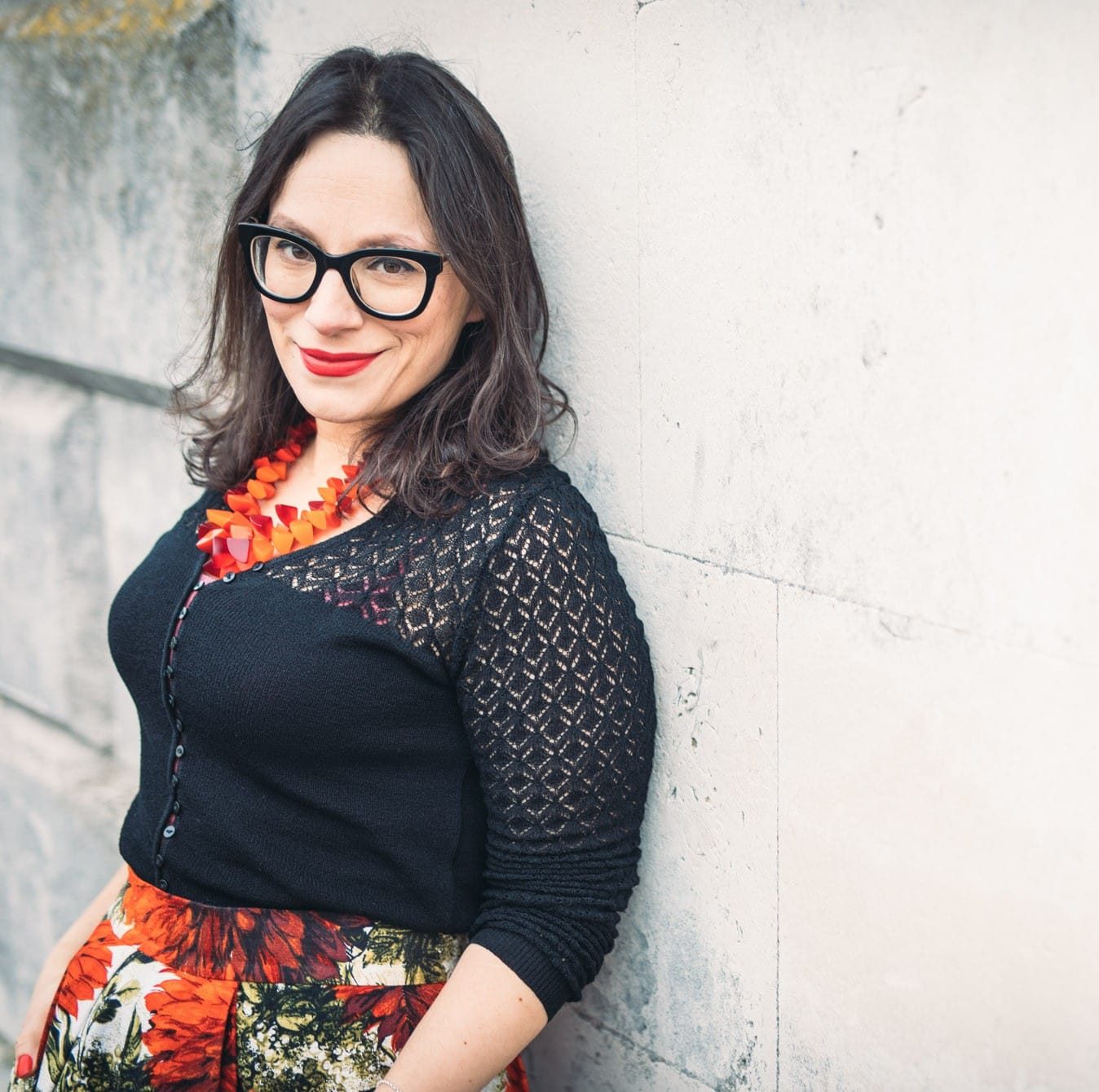 Our Glades
A chat with the founder of Greener & Cleaner, Parisa Wright.
We had the opportunity to sit down with Greener & Cleaner Founder, Parisa Wright, a woman who gave up a legal career and salary to fight climate change full-time. Come with us as we find out more about her and the amazing things Greener & Cleaner offer!
Greener and Cleaner works to normalise a greener, more sustainable way of life for residents of South East London. Together, they aim to make a measurable difference to our environment.
How did it all begin?
Seeing primary and secondary school children giving up their time and energy to ask adults to protect their future during the school climate strikes of 2018 made me feel that I had a responsibility to find a way to take positive action in my local community (as well as at work).
I could see some people were completely unaware and others were overwhelmed with worry so I created a platform for everyone to be able to share their skills, advice and opportunities for community projects and in turn drive more sustainable living in Bromley and surrounding areas.
What started off as a FaceBook group and 30 locals meeting above a pub, quickly escalated into thousands of households supporting each other online and running or attending sustainability skills, workshops and events in the community twice a month.
Greener and Cleaner is now a registered charity with a vibrant community Hub in the Glades where we have put on over 160 free workshops, talks, demos and events in the past year alone (from learning to sew and repair to knitting and crochet socials, to improving home energy efficiency to clothes swaps, decluttering and much more).
I'm passionate about our work to empower everyone in our local communities and our efforts to help people enjoy the cost of living and wellbeing benefits of reducing waste and living more sustainably. As a mum and someone who is passionate about reaching and supporting other vulnerable groups, I am thrilled to be part of this charity and a community Hub that is empowering thousands more people to support their community in addressing climate change in their own practical ways – both online and in person
What does your average day look like?
I usually drop into the Hub to catch up with our volunteers and visitors a few times a week. Twice a month on a Thursday afternoon I'm based at the Hub ready to chat with existing volunteers and those considering volunteering with us – to answer questions and hear their ideas.
I also spend a lot of time speaking with and planning collaborations with different charities and community organisations, many of whom have not traditionally considered the health and financial impacts of climate change on their beneficiaries/members. It's great being able to highlight the social, wellbeing and employability benefits of our volunteering and workshop opportunities at the Hub in The Glades.
Otherwise you will find me providing paid talks, workshops and Carbon Literacy training to local or London based groups and corporates (helping us fund our Hub events) or speaking with/writing to businesses and charitable foundations, for funding and professional skills.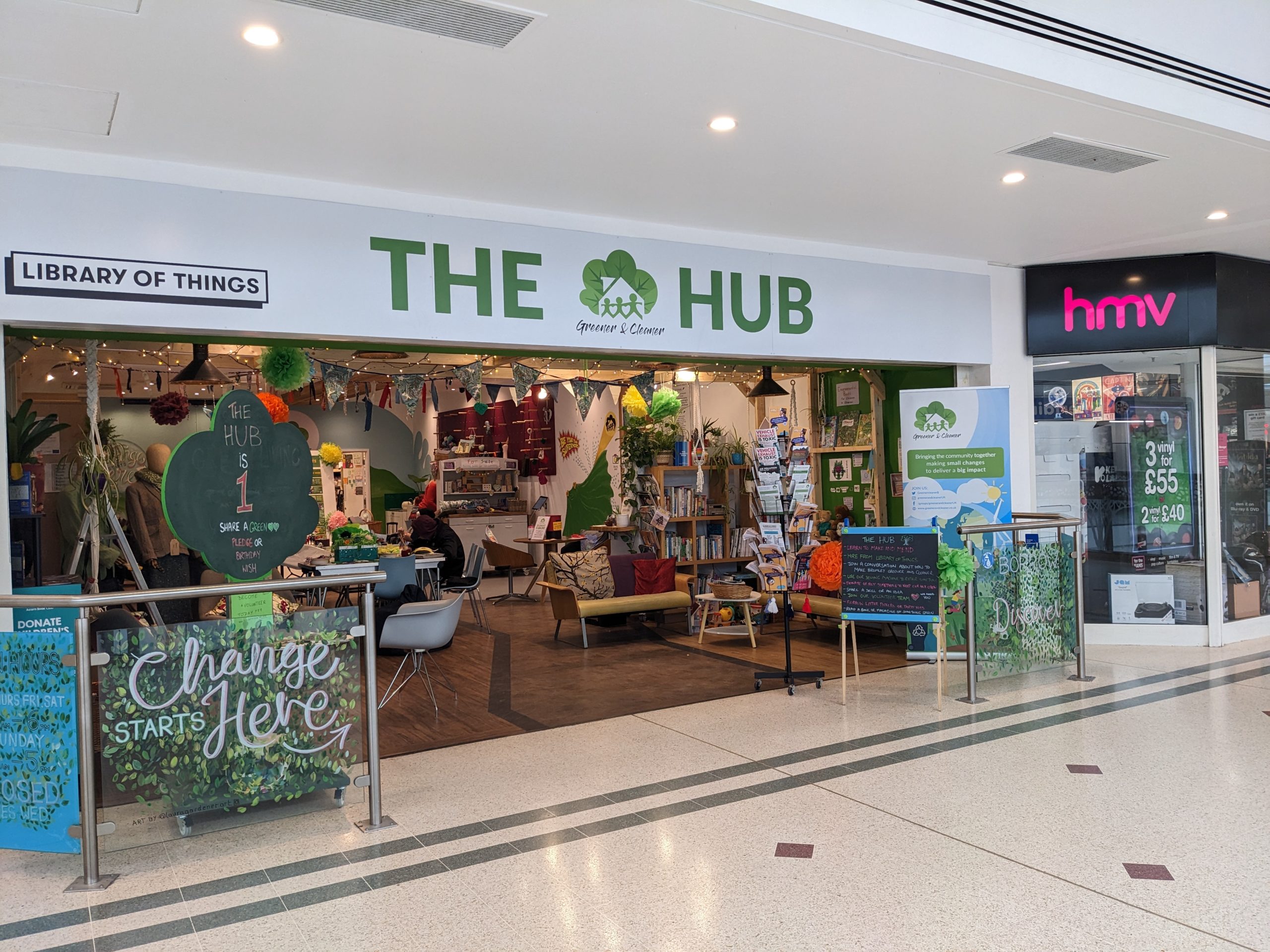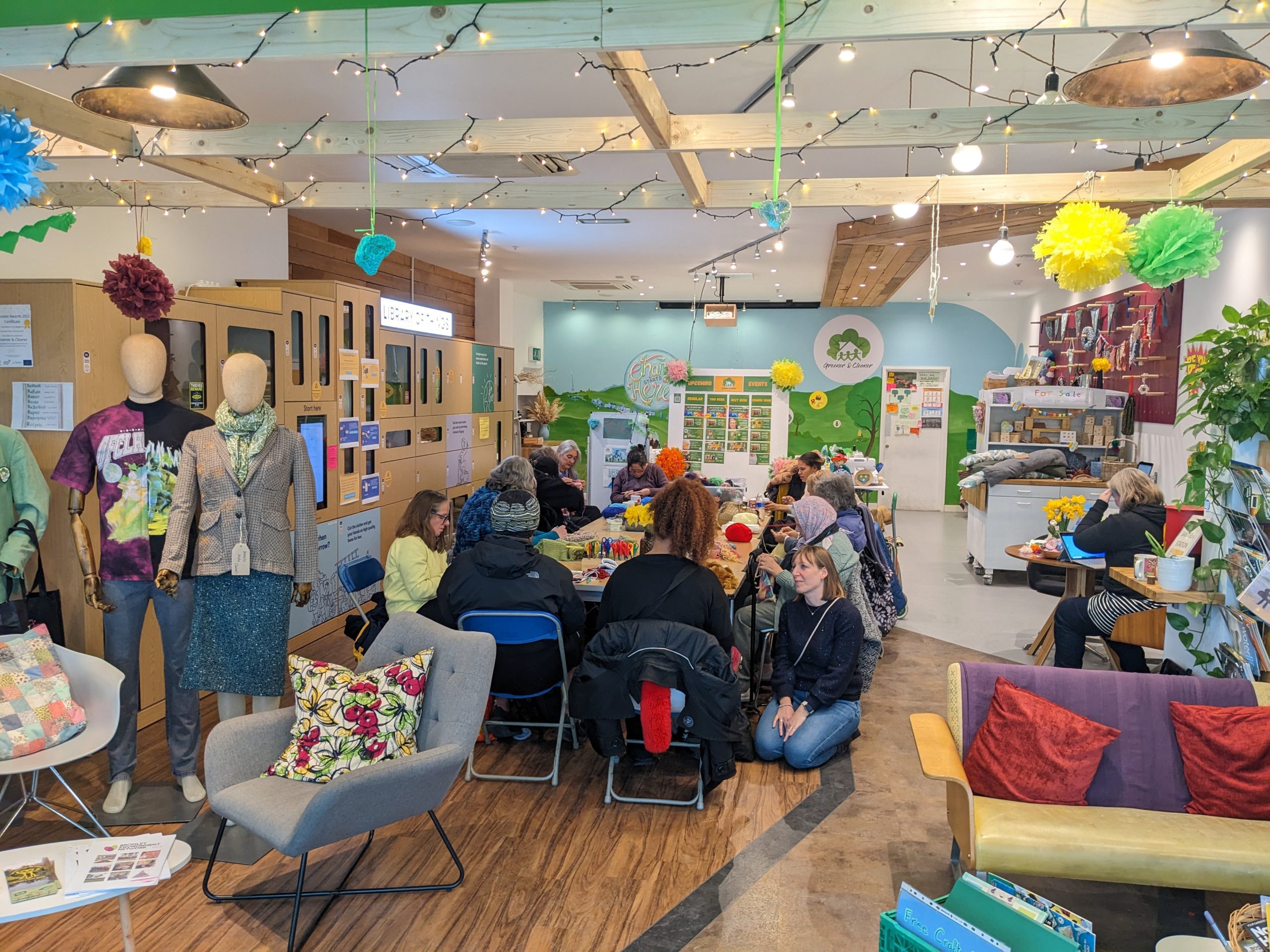 What is your favourite thing surrounding Greener & Cleaner?
Hearing how much people enjoy and appreciate the real life advice and skills workshops we provide at the Hub, helping them do what they can to protect their families while improving their finances and wellbeing. Some people have come to the Hub a handful of times and are already  making amazing changes across their day to day lives, saving them money and helping improve their quality of life now and in the future.
What services & opportunities do you provide that people may not be aware of?
– Wonderful advice from local people on 'where to start' and 'what to do' next around getting greener at home.
– Wonderful workshops from local people sharing the skills needed to waste less and be greener in our lives – from learning to sew, to composting, to growing, to reducing energy bills, to reducing food waste by pickling and more..
– Wonderful opportunities for local people to socialise, get training, boost their CVs, help their community and address eco overwhelm by volunteering with us in the Hub or behind the scenes at our charity. – The fabulous Library of Things wall of lockers at our Hub – where you can borrow DIY, gardening, cleaning and leisure equipment – from jet washers and carpet cleaners to film projectors and gazebos, and much more!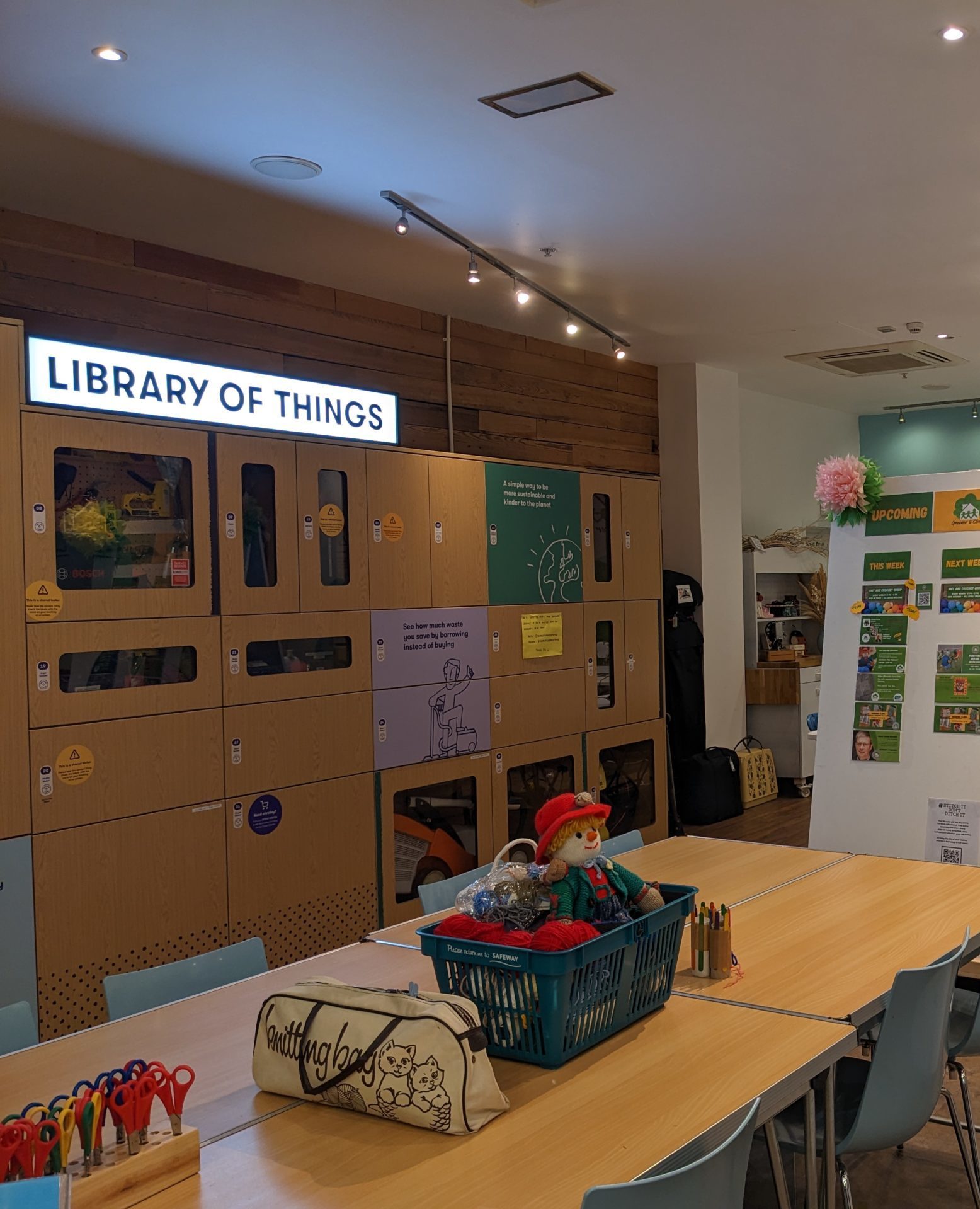 What are you excited for in 2023?
In 2023 I'm excited about our plans to work with different communities in Bromley and Lewisham to design our 2023 Programme of Hub Events – making sure our workshops and other events are as fun, useful and accessible as possible for everyone. I'm also excited about our work to create a Blueprint for these community Hubs across UK shopping centres.  I'm excited to see the Blueprint being created and aspects like our popular skills workshops and the fabulous Library of Things forming part of this wonderful template for other communities across the UK.
Finally, what are two things we can all do that will make the world more sustainable?
Action is the best cure to worry, so these are my top 2 things:
Just Get Started – Starting our journeys to more sustainable living and using our voices. It doesn't matter what people have done or said in the past, all that matters is that they want to protect their families and communities now. Don't be held back by guilt, be driven by hope – it's the only way. The hub is open 5 days a week (Thursday to Monday) and can support you with that, for free!
Your Voice Counts – Don't worry if it seems like your employer, or PTA, or residents association, or political representative, or retailer doesn't seem to care about native wildlife, cleaner energy, air pollution, safer roads to walk or cycle on, insulation, better public transport, reducing food waste, or encouraging repair etc – whatever their stance, they do care what YOU think as a member, voter, employee, customer, parent etc. It makes a huge difference when you use your voice, your spheres of influence, to ask for better practices and infrastructure, it really does.
To find out more about The Library Of Things, CLICK HERE!